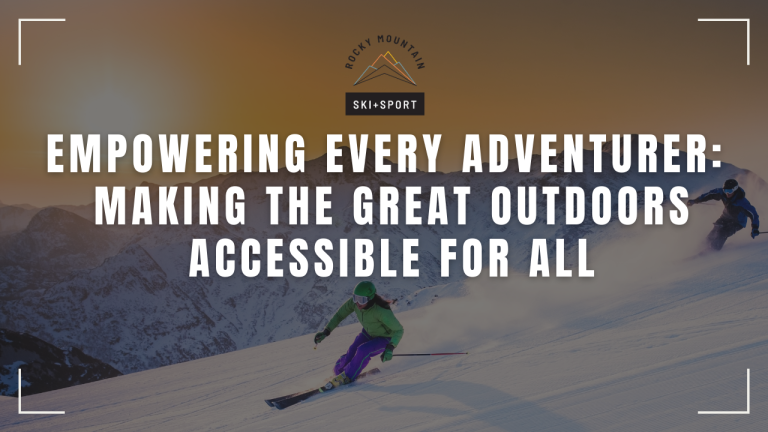 Empowering Every Adventurer: Making The Great Outdoors Accessible For All
At Rocky Mountain Ski + Sport, we firmly believe in a simple yet powerful mantra – "Recreating outdoors shouldn't be expensive." Nestled in the heart of Colorado Springs, our story is woven with threads of passion, accessibility, and community spirit.


Affordable Access to Mountain Majesty

Our inception was rooted in a humble garage, inspired by the belief that the exhilarating rush of ripping through snowy slopes under the watchful gaze of the majestic Rockies should not be a luxury. It should be a universally accessible experience. A passion, not a privilege. And so, our journey from a modest home-based venture to 1383 North Academy Blvd has been fueled by this ethos.

In the Service of the Community

We have always strived to demystify the perceived luxury lifestyle associated with skiing and snowboarding. Every piece of equipment adorned in our shop, every piece of advice shared, is steeped in our commitment to enabling more people to embrace the call of the mountains.

Skiing is not just a sport. It's an experience, a communion with nature, an opportunity for families to weave unforgettable memories amidst the serene and awe-inspiring embrace of snow-clad landscapes. And we are here to ensure that this experience doesn't come with a hefty price tag. With skis under $200, snowboards paired with bindings around $150, and boots starting at a mere $40, we've meticulously curated our offerings to cater to every budget.

A Partnership Carved in Snow

We don't just offer equipment; we offer partnerships. Our team, comprised of seasoned enthusiasts who've known the touch of second-hand equipment along with understanding the sheen of the brand-new, is always ready to share insights, advice, and assistance. Whether you're looking for affordable skiing destinations or a hand with adjusting those handed-down bindings, we're not just a shop – we're your allies in every mountain adventure.

Join Us in Celebrating Accessibility

Our legacy is not measured by the number of equipment we've sold but by the stories of families basking in the glow of togetherness, of individuals conquering slopes, and of a community united in the shared joy of affordable outdoor recreation.


In a world that often seems divided by affluence, we stand as a testament to the power of accessibility, the strength of community, and the unyielding allure of the mountains that tower, silent and grand, indifferent to the stratifications of man.

Join us at Rocky Mountain Ski + Sport. Because every adventure, big or small, deserves to be cherished, and every soul deserves to answer the majestic call of the towering peaks.